Cow Palace – Daly City (San Francisco), California
Directions – From South or East take San Mateo Bridge or Highway 92 across bay. Turn North on 101. Take Cow Palace exit off 101 just North of the Airport.
Information:
Wall booths available
Food sales allowed, $5.00 minimum packaging. Contact Crossroads at least 2 weeks in advance.
Electricity cost: $30
California Resale Number required. Contact Board of Equalization
No animals are allowed in the show with the exception of service animals.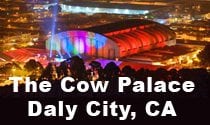 There were no results found.